Providing a Variety of Vinyl Flooring in Kalamazoo, MI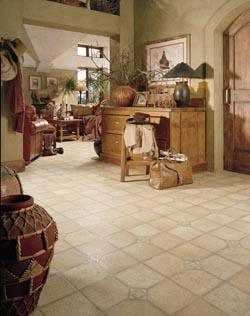 When you want the best in vinyl flooring in Kalamazoo, MI, there's only one name you need to know. Modern Flooring America makes it easy to get the look you want without a hassle at our contemporary showroom. Combining our long tradition of proactive and attentive customer care with access to all of today's top brands, we deliver an experience that you won't find anywhere else.
What this means for your flooring project is simple: we'll do everything in our power to make it:
Fast
Efficient
Cost-Effective
Easy to Complete
With our team of knowledgeable professionals to rely on for information, advice, and assistance, you'll never need to visit another provider to get the results you deserve. Discover what makes us different with options that suit your style and situation.


Versatile Vinyl Sheet Flooring
One of the simplest solutions for homeowners looking to streamline a flooring upgrade, sheet vinyl offers unbeatable impact when your goal is to finish your project with minimal delay. Easy to install, using this material results in a seamless surface that's capable of weathering heavy traffic without any worry.
Most importantly, you can roll your new vinyl floors out with confidence by trusting us to assist you with your texture selection. Whether you're trying to accentuate existing décor or redesign a space to fit your vision, we can help you find the right product to make it happen.


Our Plank and Tile Options
Any homeowner can appreciate the beauty of classic natural flooring like stone and hardwood. However, not everyone has the time to commit to constant maintenance or lives in a climate that supports the specific material they desire. That's what makes our vinyl selections such a great option.
We sell both tile and vinyl plank flooring that can create the appeal you've always dreamed of while keeping your upkeep requirements low.
Vinyl Planks -- These high-resolution products mimic the look of genuine wood with no need to spend time or money on staining, strict surface care, and avoidable traffic wear.
Vinyl Tile -- Similar to their plank variant, our tiles deliver the same level of verisimilitude for customers who want to capitalize on the upscale appearance of stone and ceramics while avoiding worries about chips and cracks.


Supporting a Picture-Perfect Finish
Regardless of the material that speaks to you, our team stands ready to help. We supply crucial, professional insight when you need to compare brands, and can advise you on the best route for your vinyl flooring installation. Enjoy comprehensive attention from a team that's known for our commitment to customer service.



Contact us to take advantage of vinyl's unique versatility. We proudly serve Kalamazoo, MI, and the surrounding areas.