The Authentic Beauty of Vinyl
Bring your design dreams to life with a beautiful set of vinyl flooring from Modern Tile Flooring America in Kalamazoo, MI. If you're looking to upgrade your kitchen, bathroom, or any other space, our showroom houses a large collection of standard and luxury vinyl flooring choices. Never sacrifice style for cost, as our vinyl alternatives can authentically replicate natural flooring materials like stone, ceramic, wood, and porcelain – all for an unbeatable cost! With modern advancements in vinyl manufacturing technology, paper-thin vinyl is a thing of the past. All of our vinyl products come from high-quality manufacturers thanks to our nationwide 500-store buying power. Shop our many elite brand offerings including:
Spotlight Values
Core Elements
Downs H2O
Genua
Galvanite
Mannington
Shaw
Armstrong
Baroque Flooring
With our team of dedicated flooring professionals on your side, you'll find our location to be a leading flooring provider for the Kalamazoo area. Discover the possibilities of transforming your home or commercial space with a new set of luxury vinyl planks (LVP), luxury vinyl tiles (LVT), or traditional sheet vinyl.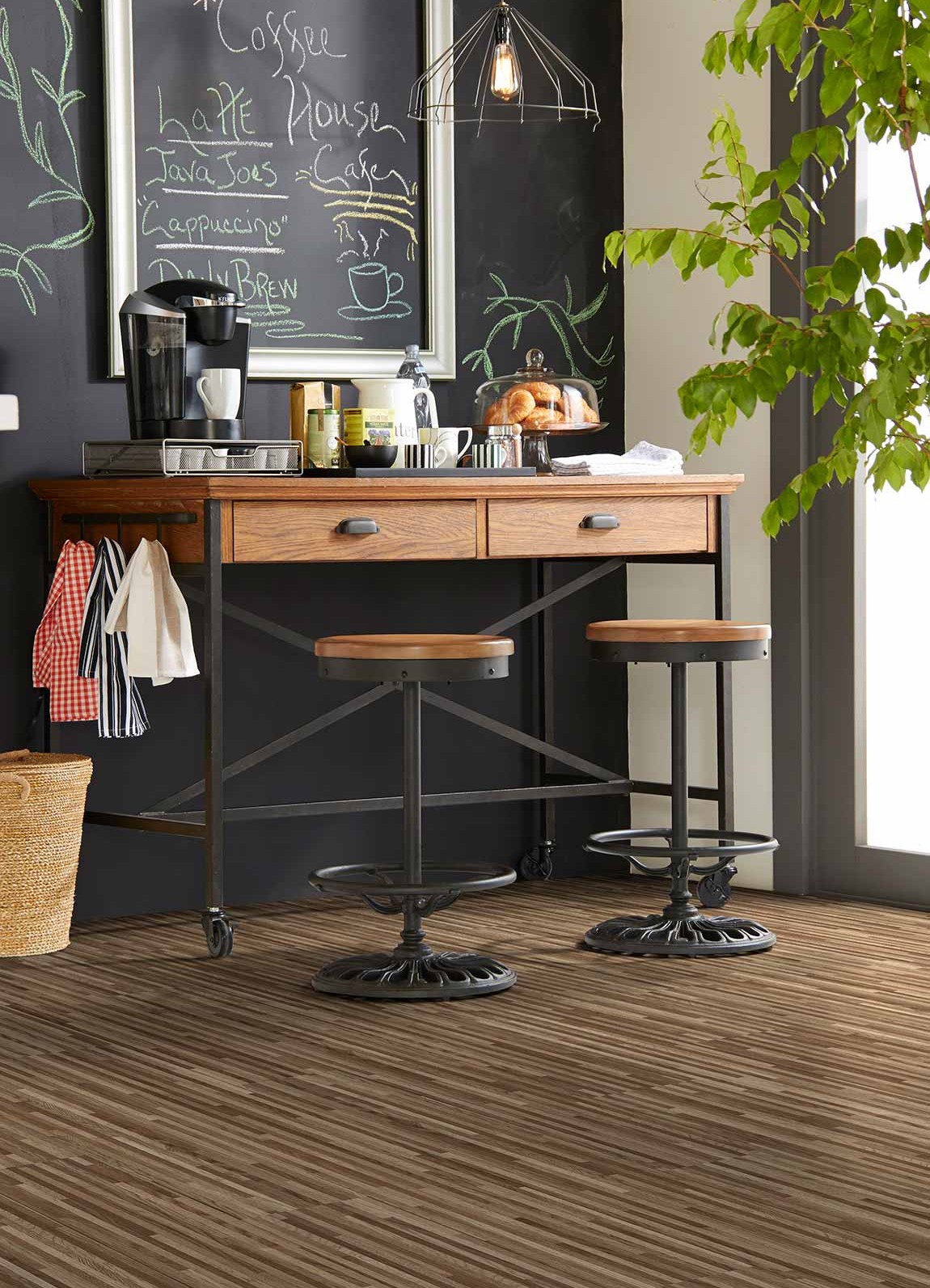 One of the most affordable and versatile flooring options on the market, standard and luxury vinyl has risen to become a national bestseller. Manufactured with a dense interior, the visible wear layer is designed to repel water while resistant to heat, fade, scratches, scuffs, and heavy foot traffic. With advanced digital technologies, virtually any image can be placed on the wear layer of luxury vinyl flooring. The design possibilities are limitless, whether you're seeking the warm tones of oak and birch or the vibrance of ceramic and porcelain.
Compared to natural materials like tile and hardwood, our vinyl offers the same durability without the risk of water damage or warping. Though vinyl offers a solid surface, it remains softer to walk on when compared to wood or stone. Most importantly, you can customize your final choice with any glaze, finish, or texture that you desire. Whether you're trying to accentuate existing décor or redesign a space to fit your vision, we can help you find the right product to make it happen.
Plank and Tile Vinyl Flooring Options
Our collection of vinyl and luxury vinyl flooring comes in a variety of styles, including traditional sheet vinyl, planking, and tiles. While traditional vinyl is adhesively applied with sheets, it is virtually seamless, preventing moisture and dirt from reaching the subfloor. Additionally, we sell both tile and vinyl plank flooring that can create the appeal you've always dreamed of while keeping your upkeep requirements low. LVT and LVP products remain some of our most popular to date.
Luxury Vinyl Plank (LVP)
These high-resolution products mimic the look of genuine wood with no need to spend time or money on staining, strict surface care, and avoidable traffic wear. One of the advantages of LVP over hardwood is how soft it feels underfoot without the risk of splinters, warping, or staining. Although wood-look LVP is one of the most popular, LVP can also be made to seem like ceramic, stone, or porcelain.
Luxury Vinyl Tile (LVT)
Similar to their plank variant, our tiles deliver the same level of verisimilitude for customers who want to capitalize on the upscale appearance of stone and ceramics while avoiding worries about chips and cracks. LVT is usually cut into square tiles, with customers seeking to mimic the appearance of authentic tile flooring. Wood-look tile is also available from our store.
Maintaining and Cleaning Your Vinyl Flooring
Vinyl flooring is crafted with the intention of lasting decades. Even the busiest households with pets, children, and heavy daily use can keep their vinyl floors clean with very little work. With a little soap and water, a damp mop can readily remove most spills or messes. Sweeping and vacuuming on a regular basis are also recommended to keep your surface clean. While some customers' allergies may be aggravated by other flooring options such as carpet, our luxury vinyl minimizes the gathering of pollen and dander, giving seasonal respite for many.
Waterproof Vinyl Flooring
Of course, you want waterproof flooring in rooms with running water and heavy humidity, such as the bathroom, kitchen, and basement. For the bathroom and kitchen, when water spills onto the floor -- and yes, it will -- you don't want to have to worry about ruining your new surfaces. It just makes good sense to put in floors that resist water in wet rooms.
As far as the basement goes, this is a space where there is high humidity and is subject to leaks. Choose waterproof luxury vinyl for this room and avoid ruining your floors. In fact, we recommend such floor coverings for any room where there are potential spills. Life's too short to get anxious about every little or big spill that happens around the house.
Eco-Friendly & Quality Vinyl Floors
Save money, enjoy luxury vinyl, and help the environment. Luxury vinyl flooring has another advantage over traditional floors. It is eco-friendly! The manufacturing process of traditional vinyl flooring does not save our non-renewable resources. In addition, some types of older vinyl actually contain a hazardous material, asbestos.
However, today's luxury vinyl avoids these issues. Due to advancements in technology and the manufacturing process, LVT & LVP are produced in a way that has a minimal environmental impact. Manufacturers of vinyl use fewer non-renewable resources, and they recycle many vinyl products. For an affordable, attractive, and eco-friendly flooring product, the obvious choice is luxury vinyl tile or planks.
Finish with a Professional Vinyl Flooring Installation
When you find the material that speaks to you, our team stands ready to help with comprehensive services. We supply professional insight when you need to compare brands, take measurements, and prepare for final installation. Attempting a self-completed install could result in visible issues that could impact the performance of your new floor. Leave your worries behind and trust our team of knowledgeable and experienced technicians to perform the job with accuracy and precision.
Whether you're fully retired or working around a busy schedule, we can arrive at a timeframe that works for you. Modern Tile Flooring America's crew is equipped with the best possible tools and machinery to finish the job efficiently. We are sure that you'll be pleased with our craftsmanship and back up this warranty with our Ultimate Confidence Guarantee. Do you reside in an older, historic home? No room is too challenging for us; Our team can transform any space beautifully and correctly the first time around.

Drop by our showroom and contact us today to get started with your flooring remodel plan! We proudly serve customers in Kalamazoo, Portage, MI, and surrounding communities.